Regular price
$ 429.99 USD
Regular price
Sale price
$ 429.99 USD
Unit price
per
Sale
Sold out
Share
View full details
Skip to product information
Introducing Original Prusa Enclosure: Modular box for your 3D printer.
Enclosures mainly help with stabilizing the inner environment and raising ambient temperatures, which is vital for printing materials such as ASA, PC-CF, PP, and others that have a tendency to warp. We also prepared a handful of add-ons that cater to any of your specific needs.
Original Prusa Enclosure is an accessory for your 3D printer that houses your Original Prusa i3 MK3S+ and provides a stable printing environment. The Enclosure helps to reduce odors from certain materials, lowers noise, can be equipped with useful addons for increased safety and/or the possibility to run the printer in public spaces and helps with printing advanced materials due to the passive heat coming from the heatbed (prevents warping). There is enough headroom above the printer inside the enclosure to mount the MMU2S unit.

Everything is included in the package including plastic parts, you don't need to print anything on your own. The only exception is the handles (seen in some photos) – these are optional and not included in the package because most users won't need to move the enclosure around. Assembly instructions are included. A 3D printer is not a part of the package.

Technical Parameters
Dimensions with the LCD mounted outside: 530 mm (w) × 545 mm (h) × 715 mm (d)
Dimensions with the LCD inside: 530 mm (w) × 545 mm (h) × 640 mm (d) At least 250 mm is required in front of the enclosure for the doors to fully open
Enclosure type: Passive, heating provided only by the 3D printer's heatbed
Weight: 10,6 kg (23.4 lbs)
Max stackable units: up to 5 (with more than 3 enclosures, anchoring to a wall is recommended)
The basic package contains: All components required to build the enclosure (frame parts, transparent side panels, top and bottom panels, mounting material, printer frame brace), temperature sensor, and documentation. Handles and optional 3D-printed accessories seen in some photos are not included in the package.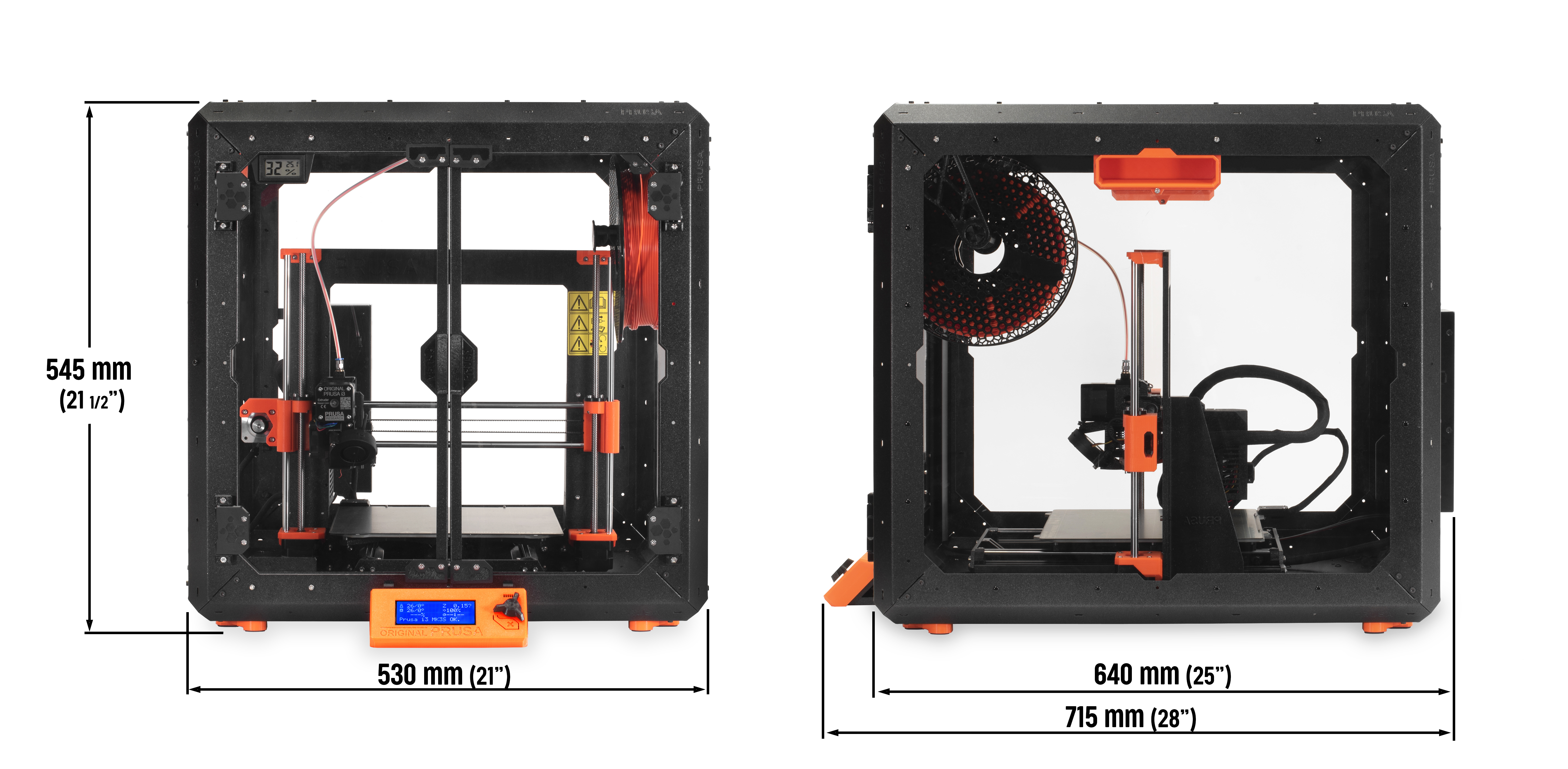 Customer Reviews
Write a Review
Ask a Question
Don't be swayed by the price - it's cheaper than you think!
I almost didn't buy it here. I took a look at the price, compared it to the price on the Prusa site, had a good laugh and almost moved on. Fortunately - I stepped back and looked at the big picture... when you add up what Prusa charges you for shipping, the duty/import fees from customs, and the convenience cost of having it readily available, in stock, in the states - it's pretty much a wash. More than worth it to not have to wait 2-3 months to get a printer that - in the end - would only be slightly cheaper. I needed printers badly for my expanding business - Printed Solid really came through - these guys are awesome.
Choosing a selection results in a full page refresh.