Regular price
$ 42.00 USD
Regular price
Sale price
$ 42.00 USD
Unit price
per
Sale
Sold out
Share
View full details
Skip to product information
Volcano – Print Faster, Stronger, Bigger.
We've been a big fan of large diameter nozzles since our friends at colorFabb convinced us to beta test the (sadly never released) woodFill coarse with a 0.8mm nozzle.  Since then, we've stocked larger nozzles for the E3D as upgrades for other big hot end converts.
E3D has taken it a step further!
Upgrade the capabilities of your E3D V4, V5, or V6 compatible hotend to enable faster stronger prints.
Everything you need to start exploring large format 3D-Printing! The Eruption Pack is an add on for your E3D HotEnd to boost the speed of printing with vastly increased melt rates and epic layer adhesion. Another fun addition to the E3D ecosystem, and fully compatible with all E3D HotEnds except Cyclops.
The Eruption Pack gives you an easy way to upgrade your HotEnd with a full suite of nozzles. This kit contains all the parts you need to upgrade your HotEnd to Volcano, including electronics and fixings. The Eruption Pack adds the full range of nozzle sizes to your Volcano:
0.60mm
0.80mm
1.00mm
1.20mm
---
Volcano is E3D's answer to slow printing. If you want large parts, in less than half the time, with dramatically increased strength then Volcano is what you need.
Volcano enables you to print at high layer heights, through large nozzles, and extrude much more plastic per second. This results in dramatically reduced print times.
In addition to reduced print time the large traces of filament printed by Volcano bond to one another with greatly improved strength. This results in parts that are extremely strong and feel much more solid than standard prints.
Printers are getting larger and the objects that can be printed are getting larger too. However, as prints get bigger the time taken to print these objects increases exponentially. Volcano makes huge printers viable, and manufacturing large objects much more efficient by slashing print times by more than half compared to standard printing.
By combining speed and strength Volcano makes it possible to print objects a whole new class of objects like shelf brackets, large scale RepRap machines, and even furniture.
Just because parts are printed with large layers doesn't mean that they are going to be inaccurate or ugly. To the contrary the large layers give a very smooth appearance, with great gloss. With a correctly calibrated machine you can stil hit part accuracies of +/- 0.1mm.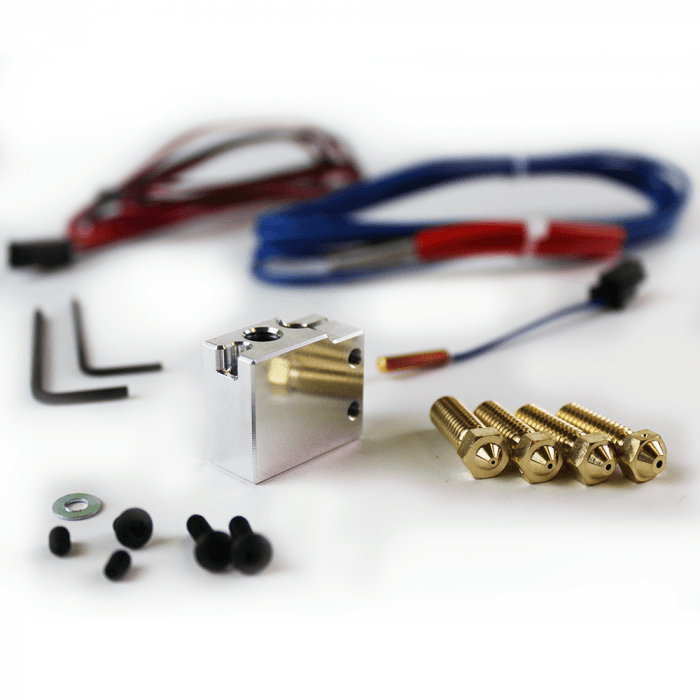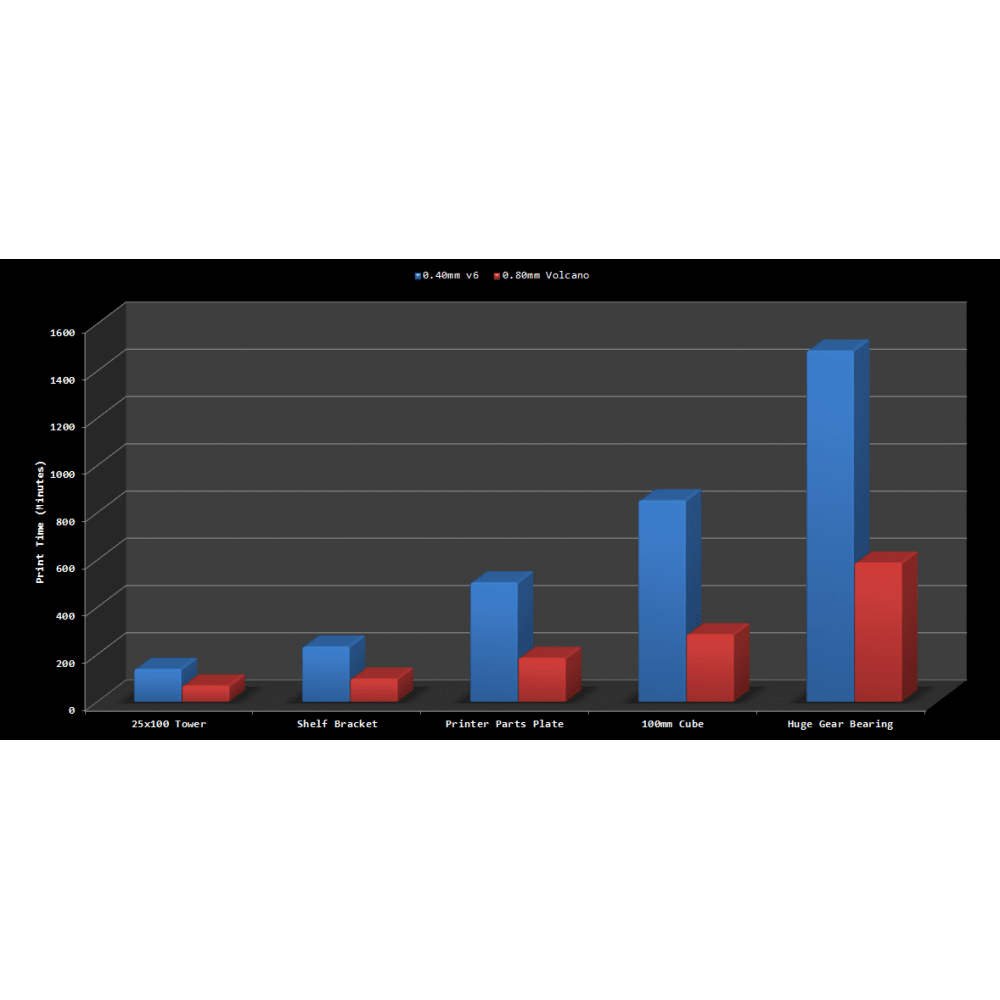 Customer Reviews
Write a Review
Ask a Question
Filter Reviews:
TitanAero
V6 hotends
4x nozzles
hotend replacement
volcano
heater cartridge
Works
unit
setup
09/02/2020
Pete R.

United States
Great deal!
Complete hotend replacement for a Volcano setup, and comes with 4x nozzles. Works with V6 hotends, I installed on my TitanAero setup and it worked perfectly. One thing to note - the heater cartridge is a 30W unit. I wish it came with a 40W unit.
Choosing a selection results in a full page refresh.