Regular price
$ 134.80 USD
Regular price
Sale price
$ 134.80 USD
Unit price
per
Sale
Sold out
Share
View full details
Skip to product information
IMPORTANT NOTE:  This is a liquid cooled hot end and requires installation of a cooling loop.  You can use your own design or the one E3D makes here.  

Dual Extrusion+ Cyclops
The next generation of the E3D Dual Extrusion Cyclops, redesigned in 2018.  This hot end has two filament inlets and one filament outlet for experimental dual extrusion in a compact package.  It is designed to work with liquid cooling systems for better performance and to allow use of higher temperature filaments.
From E3D:
Same great printing performance and possibilities; new compatibility and features.
Cyclops Rework
The Cyclops heater block has had a complete redesign, improving performance and making it more adaptable. We've removed all unnecessary material, lowering the thermal mass and reducing heat-up times. By changing the outer architecture of the block, we've also reduced the amount of heat radiating down from the block onto the print. This makes it easier to print small, complex parts without the need for a silicone sock.
The distance between the filament paths is 2mm larger compared to the old-style Cyclops. This makes Cyclops+ compatible with the Kraken, for those looking to experiment.
Things to watch out for:
We recommend only using similar plastics when "mixing" using the Cyclops+ HotEnd.

1.75mm bowden setups only
Compatibility
Chimera+ fit standard fans, thermistors and heater cartridges. It will also work with Capricorn bowden tubing
Chimera+ is compatible with cartridge-style heaters and thermistors, opening the door to PT100s and thermocouples.
Water Cooling
An exceptionally light-weight, effective water-cooled heatsink that is compatible with our water-cooling kit and nylon tubing.
Cyclops+ is no longer compatible with
Old-style Cyclops heater blocks

Old-style Cyclops and Chimera heatsinks due to the increased distance between the filament inputs

Bead-type temperature sensors

Due to the design change, this will not be compatible with some user designed mounts for the previous Cyclops or Chimera.  
What's in the Box?
Water-Cooled Cold Side
Water-cooled heatsink
4x black plastic collets
4x blue plastic collet clips
Cyclops+ fixings kit (suitable for Cyclops+ and Chimera+)
800mm PTFE bowden tubing
Cyclops Hot Side
0.4mm Cyclops nozzle
Cyclops heater block
2x Kraken heatbreaks
Cyclops+ hotside fixings kit
Heatsink Compound
30W Heater cartridge (12V/24V)
Thermistor cartridge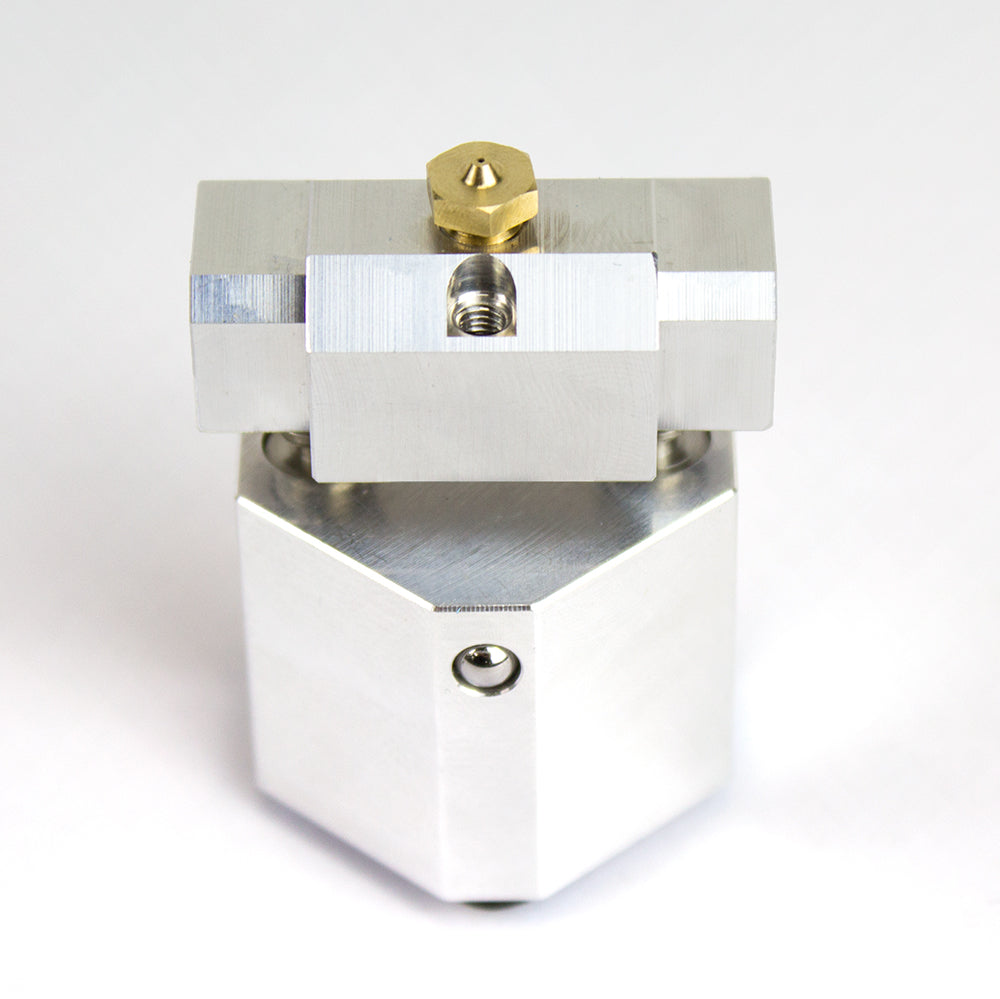 Choosing a selection results in a full page refresh.