It is a repost of a writeup done by Mike Kelly on the
Robo3D forum
 with some edits to account for changes made since his original post.  
This mod allows you to enclose your printer so as to avoid injury from the hot and moving parts, while still being able to watch the print.
BOM
​
Laser cut parts:
1x Front Top
2x Front Sides
1x Front Front
1x Front Bottom
1x Rear Top
2x Rear Sides
1x Rear Rear
1x Rear Bottom
Glue:
Weld-on 3 
or 
Weld-on 4
Recommended Hardware / Printer parts = See "Mounting the Latch"
Build the Enclosure​
While not necessary to build the enclosure, these tools were used during my assembly to help ensure a square shape. Basic masking tape is all that is truly needed as the pieces will interlock together.
2x 
24in
 or 
36in
 Ratchet bar
2x 
Corner Clamp
(cheaper alternative)
I began by securing the Top, Bottom and Front panel in the corner clamps, verifying the pieces were in the correct positions.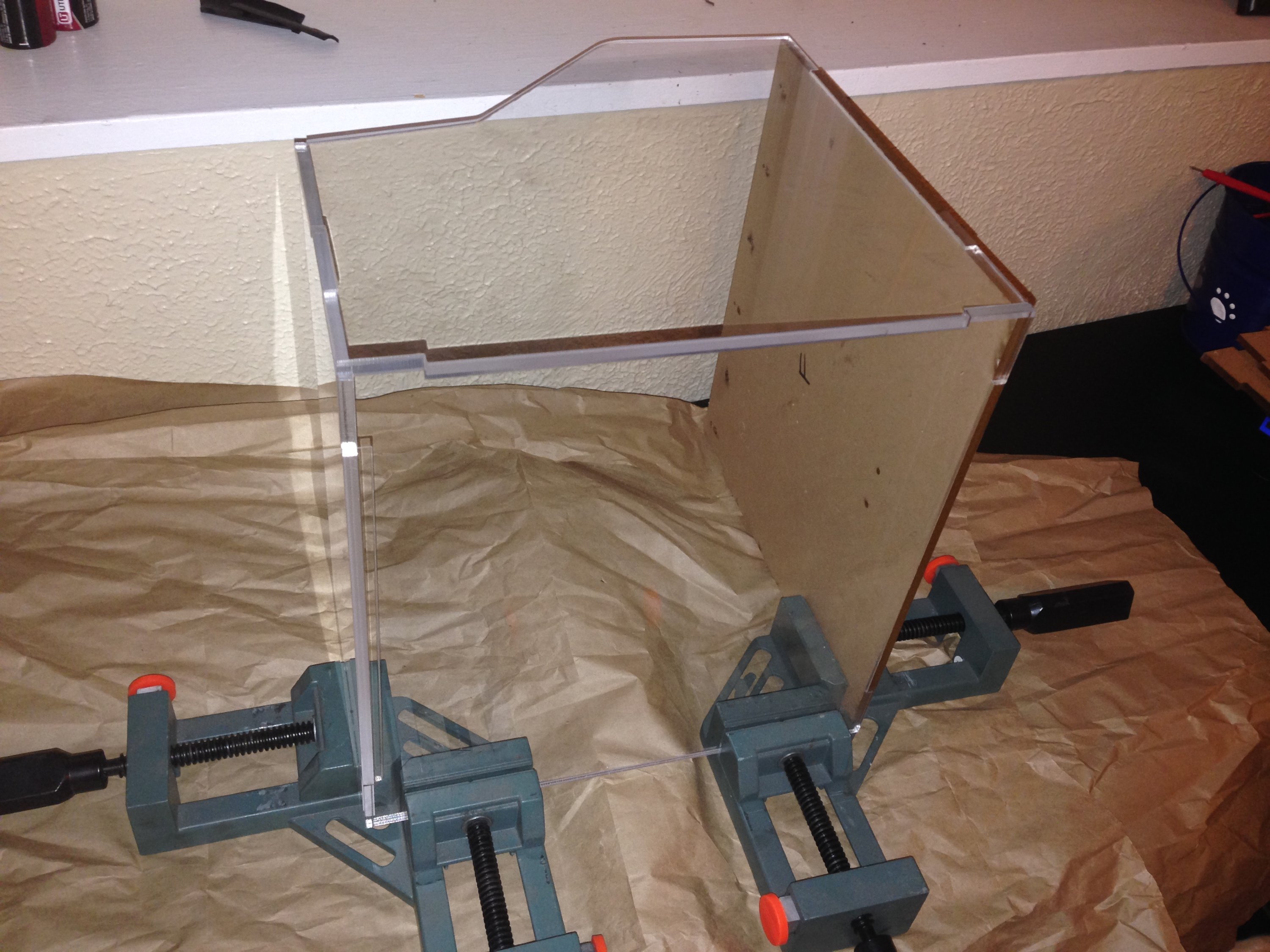 I glued the pieces together in this order:
Bottom to Front
Side 1 to Bottom and Front
I would then remove the 3 glued part, as they no longer require the brace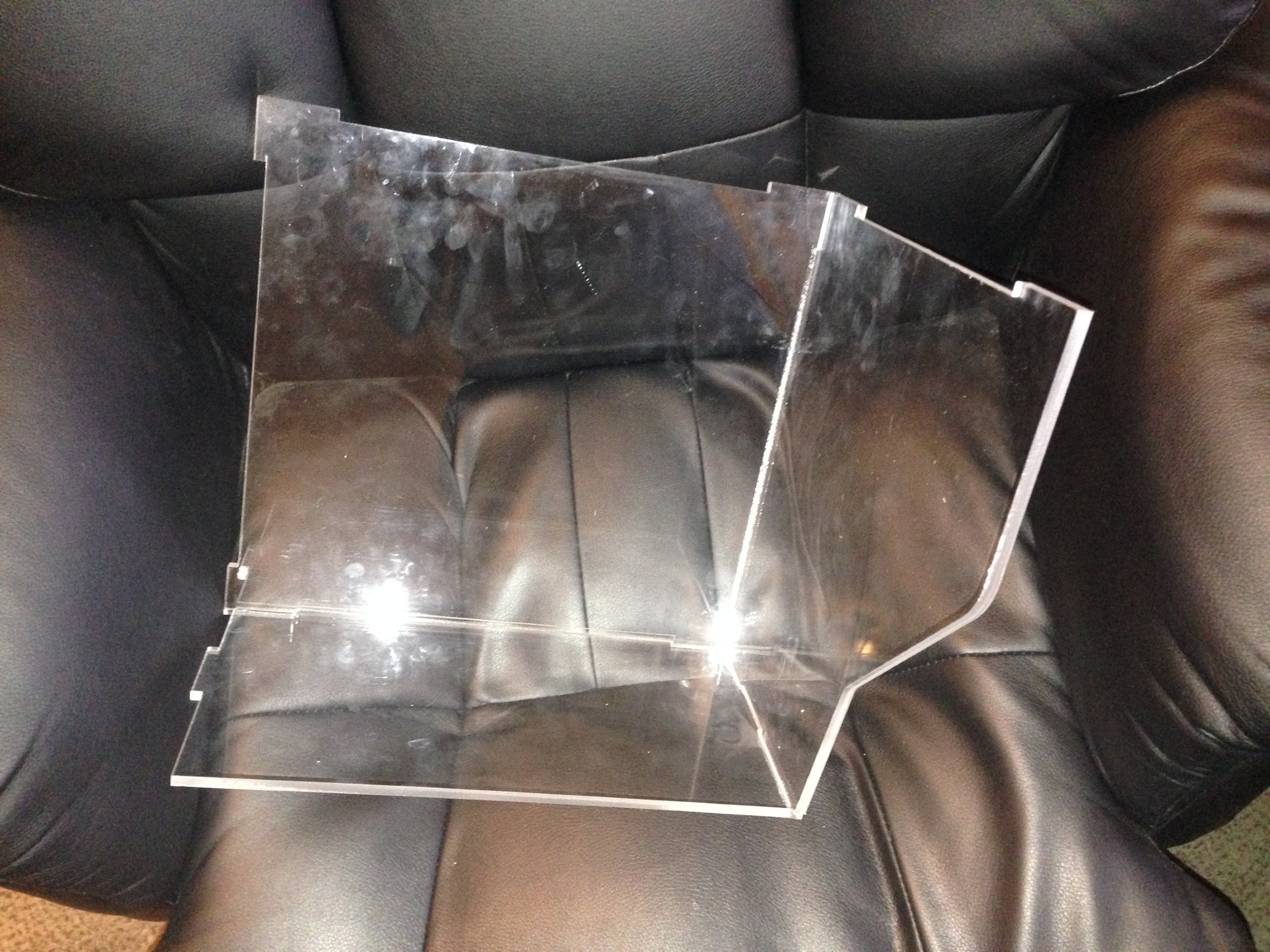 Side 2 to Bottom and Front is next. Using the ratchet clamps to ensure the part doesn't move during gluing.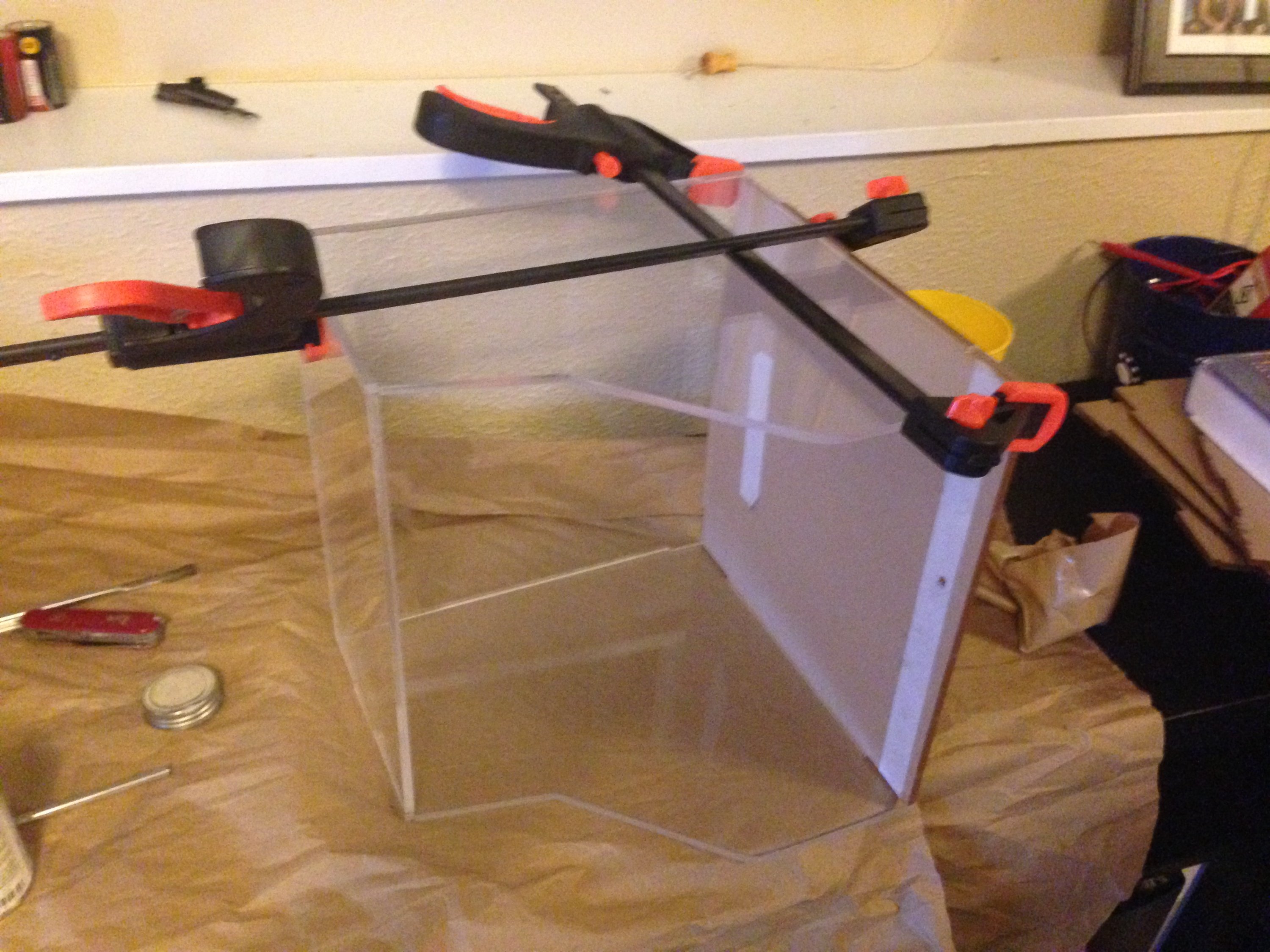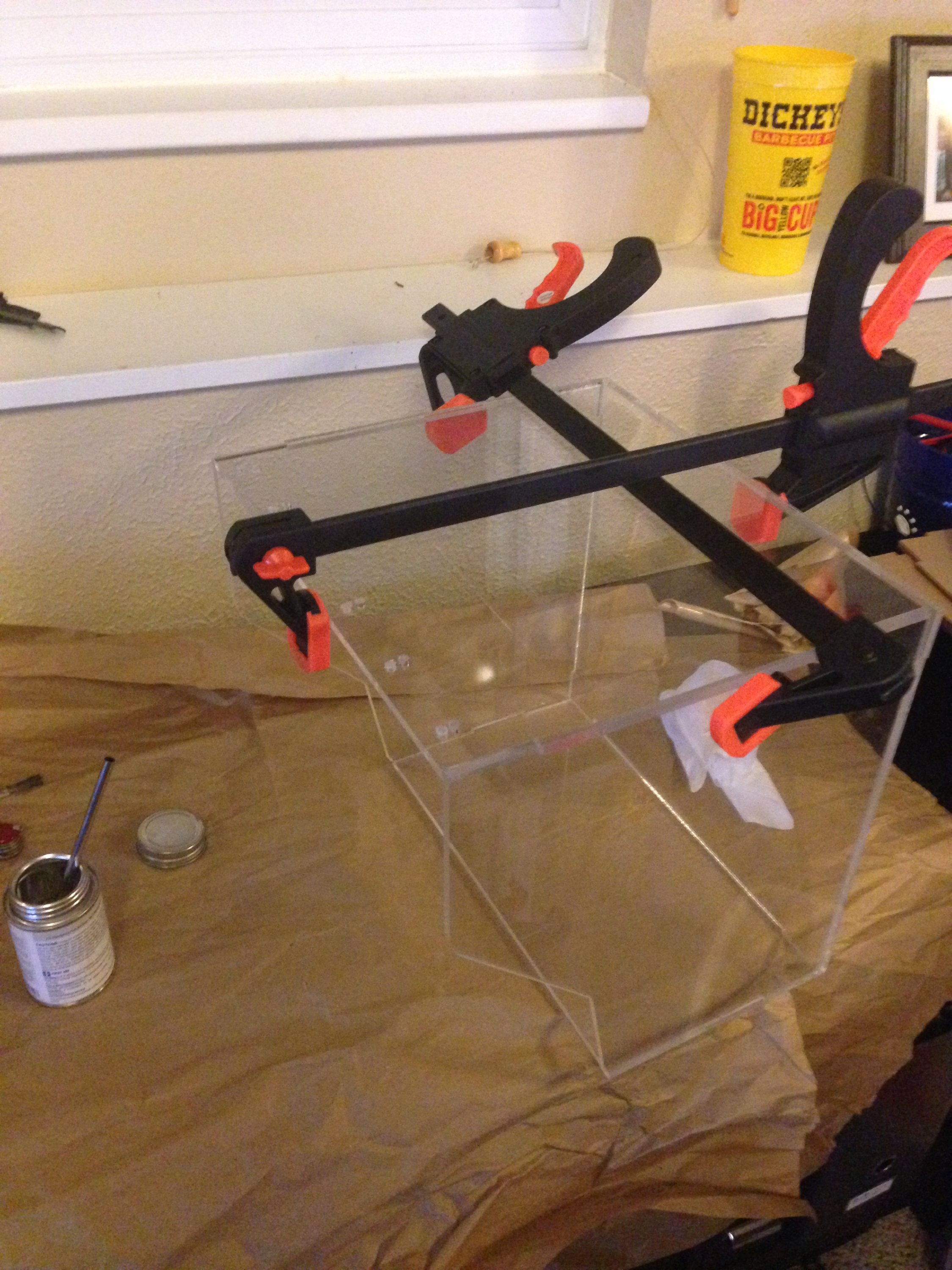 The Final step is to secure the top part to the other 4 pieces.
Completed front cover: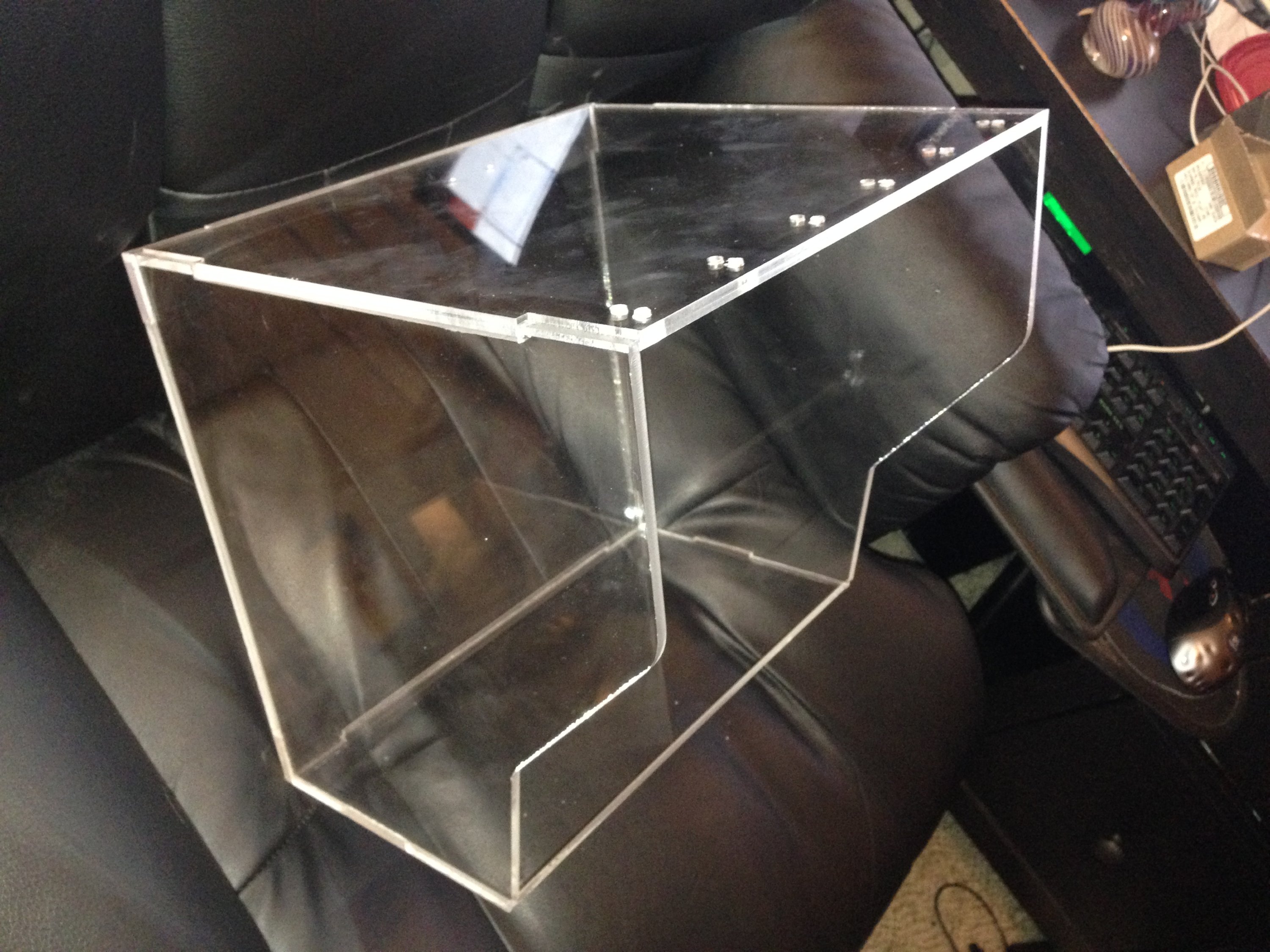 Repeat this process for the rear: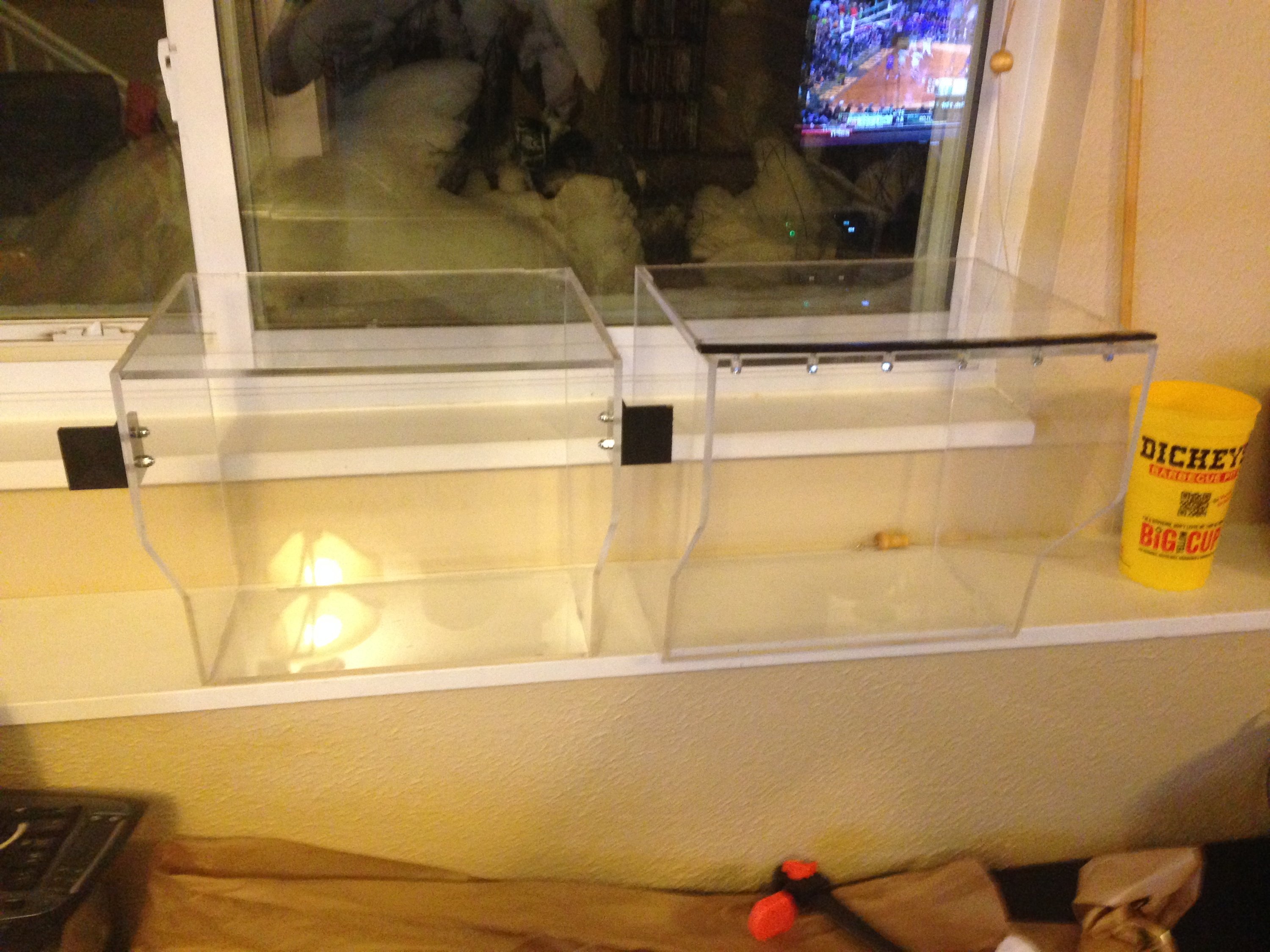 Note: I use a piano hinge on my front cover.
Mounting the Latch​

We advise using this excellent printable mount system designed by Thingiverse user Leed3.  There are a number of other options available, but we believe that this is the easiest option.  
You can find the files on thingiverse here.  http://www.thingiverse.com/thing:1162525

Be careful when installing the case during a print so as to not hit the moving bed


Q&A​
​
Why this shape?​
In order to maintain the full build volume it needed to be this large. There are some places that could be reduced in size, but wouldn't work well with a laser cutter.
Internally there's 5mm of clearance on both ends for the drawer slide model. The R1 Y rails have more room because they require less space. Overall it only adds about 15 mm of length end to end.
Do I have to mount it like this?​
I leave it open to each user to decide just how they want to secure it. I personally prefer a hinged method, though easy removal is what a lot of users requested so that's our suggested method. I'm interested to see what other users come up with for mounting to fit their needs.
I have an LCD, will it fit with the enclosure?​
​
More than likely not, I have designed a swivel mount design that uses commonly used lifter feet to accommodate the XXL LCD. If you have an alternative I can design something for you.​
​
​
The alternative solution is to cut off a portion of your enclosure, but I leave that choice to the user​