Regular price
$ 7,829.00 USD
Regular price
Sale price
$ 7,829.00 USD
Unit price
per
Sale
Sold out
Share
View full details
Skip to product information
Currently 8 to 12 weeks lead time. Please contact SALES@PRINTEDSOLID.COM for a quote or to purchase this printer.
Since 2021, TRILAB professional delta 3D printers are a part of Prusa Research.
AzteQ is an industrial delta printer with a closed actively heated chamber up to 80°C for top of the line 3D printing without material or spatial compromises. The AzteQ Industrial printer is guaranteed to facilitate the production of components from materials such as ABS, ASA, PA, PC or PP that will withstand high temperatures and are chemically and mechanically resistant.
The package includes a PrintPad with a powdered PEI surface and an E3D Volcano print head with a 0.4 mm brass nozzle.
After purchasing a TRILAB delta 3D printer, TRILAB will guide you remotely through the initial setup and you'll also get 1 year of support.
Are you considering TRILAB 3D printer for your business, university or maker space? We are ready to assist you throughout the whole buying and information gathering process. Just EMAIL US AT SALES@PRINTEDSOLID.COM
TRILAB AzteQ Industrial:
The first in a new line of TRILAB delta printers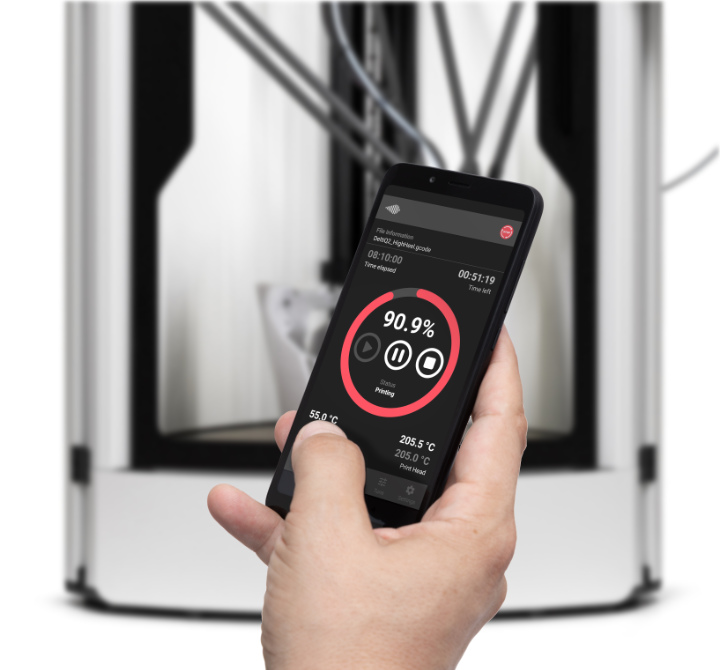 A printer under your supervision
Operate the printer as you see fit. Using the wireless DeltaControl display located on the docking station, securely in your hand or from the WebControl web interface via your PC or Mac. All this both locally (Wifi / LAN) and via secure remote access.
Multi-day prints always under control
Thanks to the lighting of the print chamber, the integrated camera, the connectable external USB webcam in combination with the remote connection, you'll always be in control. You can print for days without worries or allow your AzteQ to be checked quickly and safely by our technicians.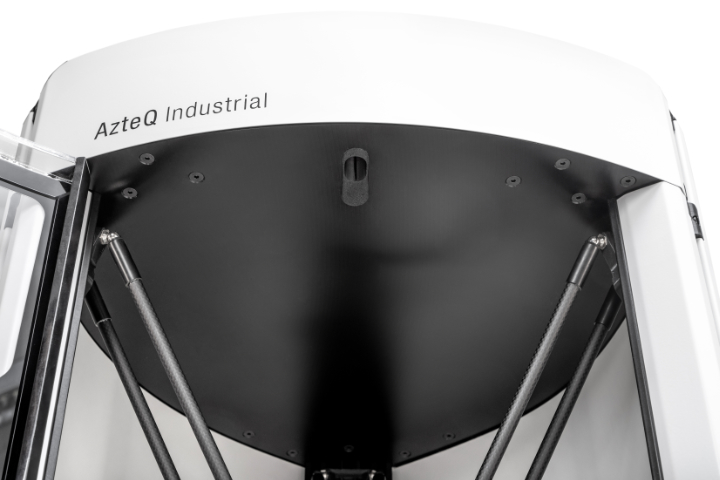 Print Anything
AzteQ can print all major types of FDM printing materials. It is designed for high-volume printing utilizing mechanically resistant materials such as ABS, ASA, PA, PC, etc., to meet industrial applications, physically demanding scenarios or surroundings with active chemicals. It can also handle simpler materials such as PLA, PETG and CPE.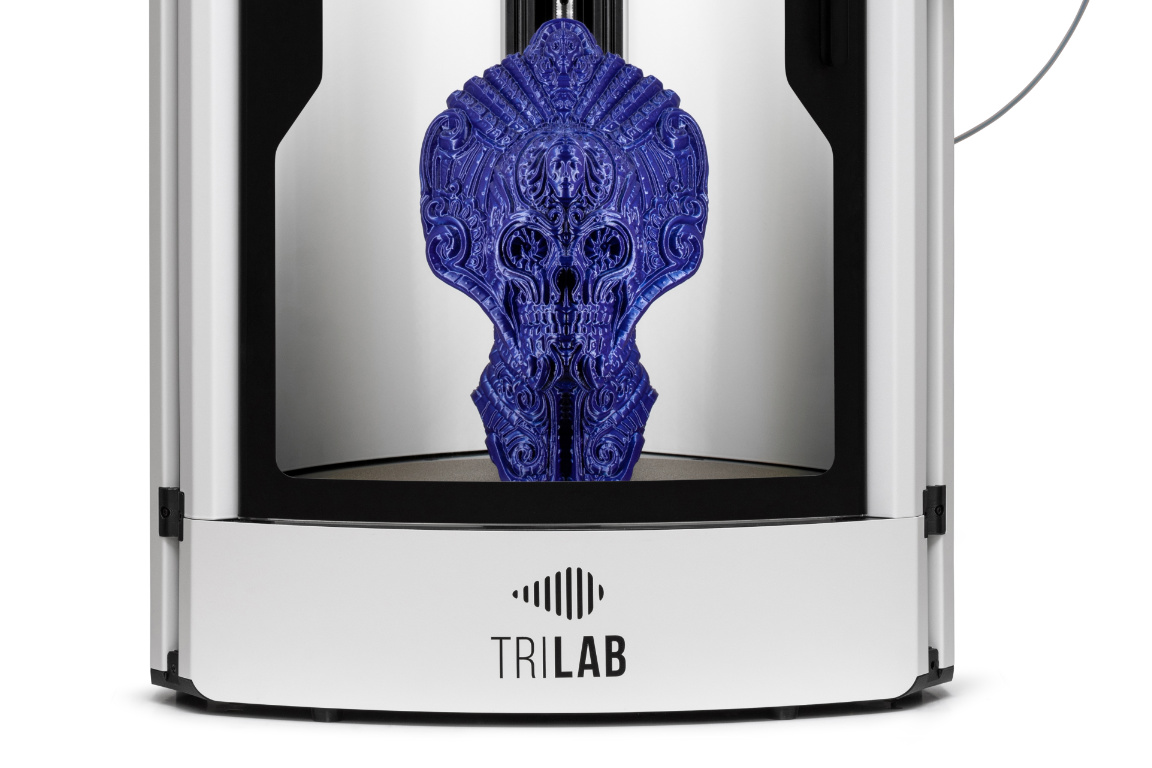 Technical and composite materials
Models from technical materials like ABS/ASA, Nylon or Nylon with CF printed on AzteQ simply by using hardened nozzle.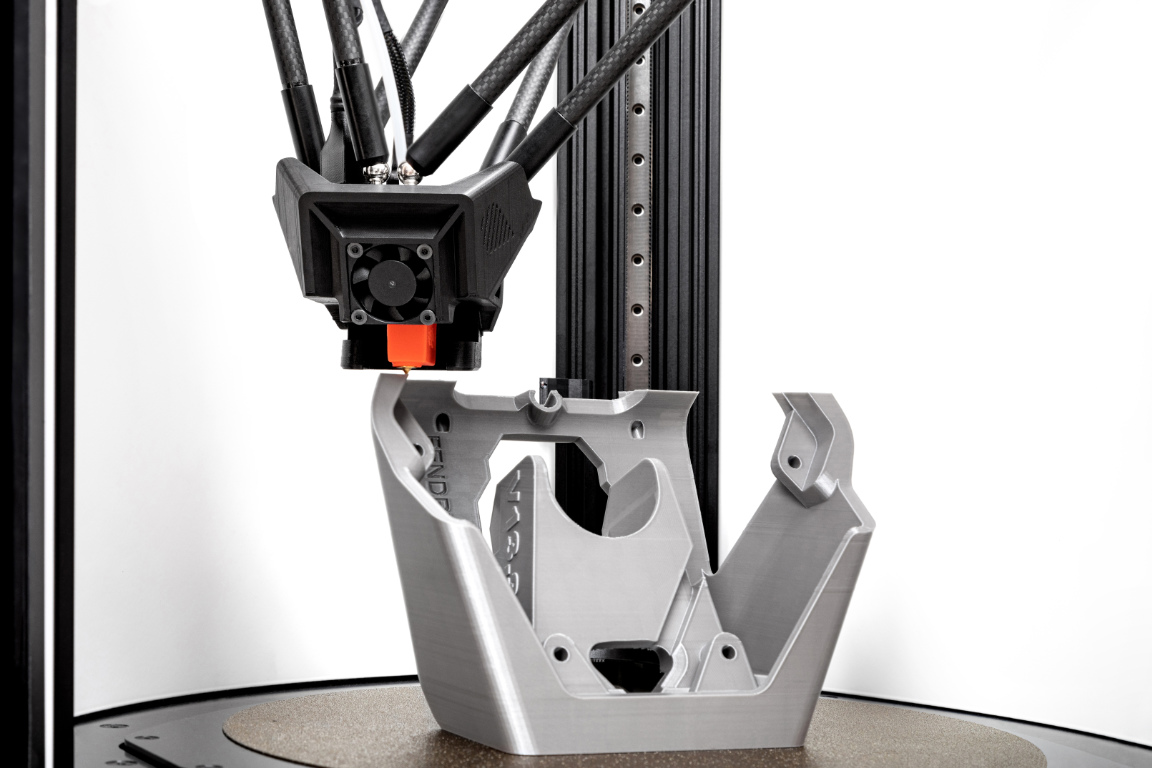 Bigger and difficult models
Bigger and more difficult models from PLA, PETG or CPE, printed on AzteQ without or with limited need of supports from the same material.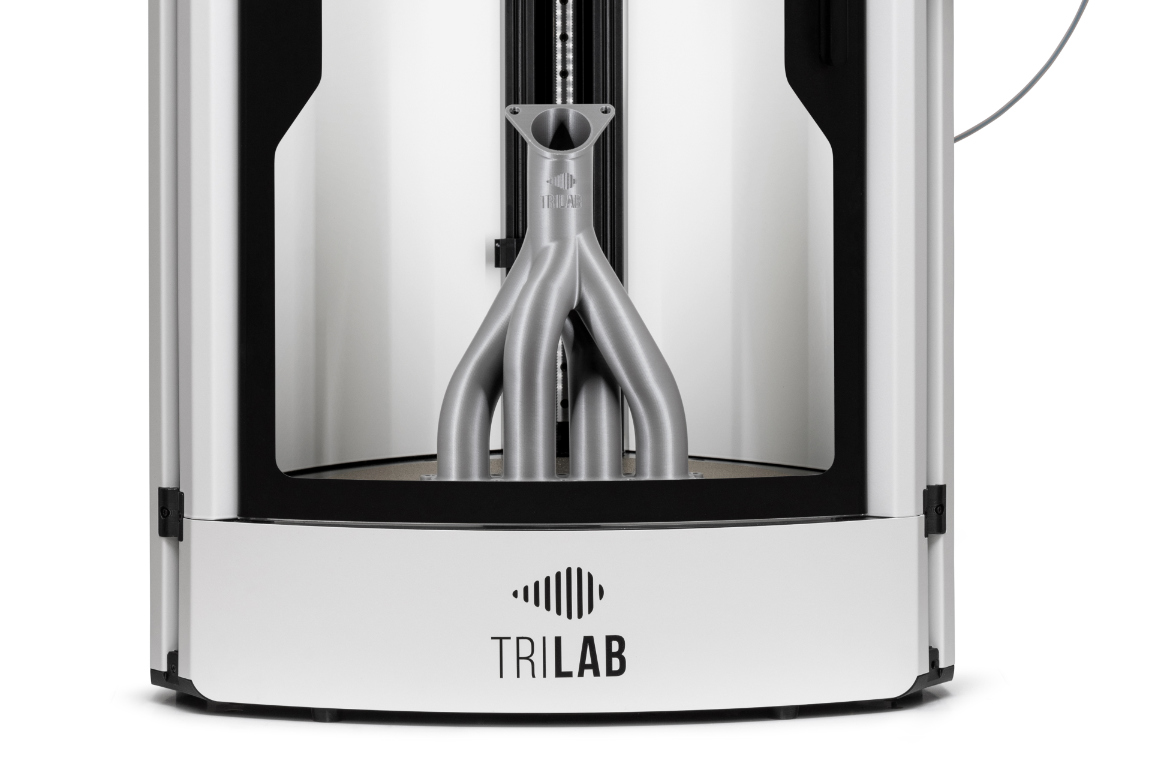 Standard models and materials
Standard models from PLA, PETG or CPE materials printed on AzteQ with ease, fast and in perfect surface quality.
6 reasons of why to choose an AzteQ Industrial
1.
Accuracy of delta kinematics
In addition to their printing speed, the main advantages of delta printers are their high spatial accuracy and superior printing surface quality.
2.
Actively heated chamber
Thanks to the actively heated print chamber, you can print even large models safely from advanced technological materials on the AzteQ Industrial printer.
3.
Swappable printheads
Select a specific printhead configuration for a specific material and printing speed. Simply attach the selected printhead to the magnets and the AzteQ will automatically perform full printer calibration on its own.
4.
High speed for high volume printing
With AzteQ, the model is always statically positioned on the PrintPad and the lightweight printhead without an extruder will not only surprise you with its moving speed but also with its printing capacity.
5.
Robust frame with separate compartments
Thanks to the thermal insulation of the chamber, heat loss and printer surface heating is minimized. Additionally, a separate electronics compartment with active cooling minimizes the thermal stress during prolonged printing at high temperatures.
6.
Remote printer management
With integrated lighting, a built-in camera and remote access from anywhere, you have 100% control of the printer. Now you can print for days without worries or let our technicians check your AzteQ quickly and safely.
Technical Specifications
Printer Specifications

 

Additive technology

Fused Deposition Modelling (FDM); Delta kinematics

Print volume

AzteQ: Ø 300 mm (X, Y) × 400 mm (Z)

PrintHead

Lightweight printhead attached using magnets; connectors for easy replacement of the entire head; E3D V6 Volcano hotend; Dedicated printheads that are specifically designed for individual materials

Extruder

E3D Titan extruder positioned in the AzteQ Hub; the bowden filament guide attaches to the printhead

Print bed

Massive, 8 mm thick aluminum heated bed; Integrated magnets that hold the PrintPad sheets

PrintPads

Flexible & swappable PrintPads sheets;
Powder PEI surface PrintPad

Print chamber

An actively heated print chamber up to 80 ° C ;
Sensors and electronics maintain the chamber temperature;
An insulated printing chamber with separate electronics

Electronics

32bit Duet and Duex primary electronics to control prints;
TRILAB secondary electronics for printer connection with advanced features

Controls and interfaces

Wireless 6.5 "DeltaControl" in-hand display or the AzteQ Hub charging station located directly on the frame

Connections

3× USB port for WiFi/LAN module, USB flash drive, TRILAB QuadPrint webcam or extension

Print monitoring

An LED color indicator on the AzteQ Hub allowing for a visual status check of the printer;
Upper integrated camera ;
Adjustable LED lighting of the printing space

Supported input formats

STL/gcode; Primarily supported: PrusaSlicer

Operating printer temperature

Recommended printer operating temperature is 20 - 32 ° C (68 - 90 ° F), storage temperature 0 - 32 ° C (32 - 90 ° F)

Dimensions and printer weight

AzteQ: 59×52×105 cm (WxDxH)/ 38 kg

Package dimensions and weight

AzteQ: 60×60×120 cm (WxDxH)/ 55 kg (w/o pallet)

Power supply

220-240V imput; 10A; 50-60Hz
---
| | |
| --- | --- |
| Print output |   |
| X and Y axis resolution | Depending on the nozzle used 0.25 - 1.2 mm; standard 0.4 mm |
| Z - axis resolution | Minimum layer height 50 µm; maximum according to the nozzle |
| Maximum chamber temperature | 80 °C |
| Maximum nozzle temperature | 300°C |
| Maximum bed temperature | 105 °C |
---
| | |
| --- | --- |
| Materials |   |
| Filament diameter | 1.75 mm |
| Compatible materials | ABS, ASA, PA, PC, PP, PETG, CPE, PLA, including composite and filled analogues |